What Does It Mean to Belong?
Dr. Erik Carter at Vanderbilt University sought to answer this question for persons with disabilities in church communities. Through research, he identified 10 dimensions of belonging: present, invited, welcomed, known, accepted, supported, cared for, befriended, needed, and loved. The 10 dimensions of belonging are such a beautiful picture of 1 Corinthians 12:27 (NIV): "Now you are the body of Christ, and each one of you is a part of it."
Read More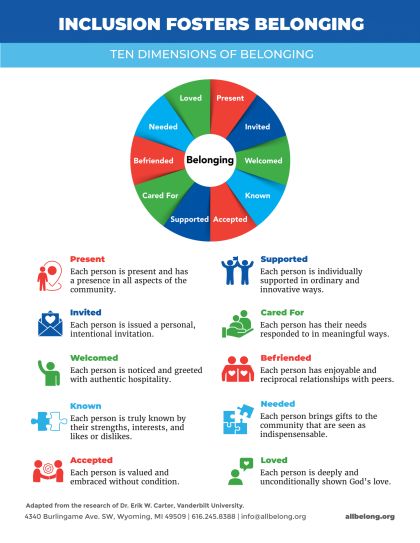 Toiling in the Gap
God calls us to be continually working toward the renewal of his kingdom on earth. While we are charged to work tirelessly for this renewal and redemption, we know that it will not be fully realized until Jesus comes again. You make the commitment to bring forth a fuller version of God's kingdom at your school or church and then you toil daily in the gap, between where you are now and a full, perfect, complete inclusion of all peoples with their amazing and messy differences.
Changing Our Questions
Our school says that we believe that "God created each child in His own image with diverse gifts and talents," but often that is difficult to live out practically during the school day. It has been so exciting to see teachers brainstorm together to support a child's unique journey. I often hear teachers treasure diversity by reminding each other that there's not one path for learning but many paths. They are working hard to help each child see their unique gifts.
ASCI Leading Insights
The inaugural issue of ACSI Leading Insights is focused on special education and inclusion in Christ-centered education. The purpose is to encourage and equip all Christ-centered schools to grow in their capacity to welcome students with disabilities—and in doing so, move our schools closer to becoming the kind of faith-filled communities where students of all abilities belong and flourish.